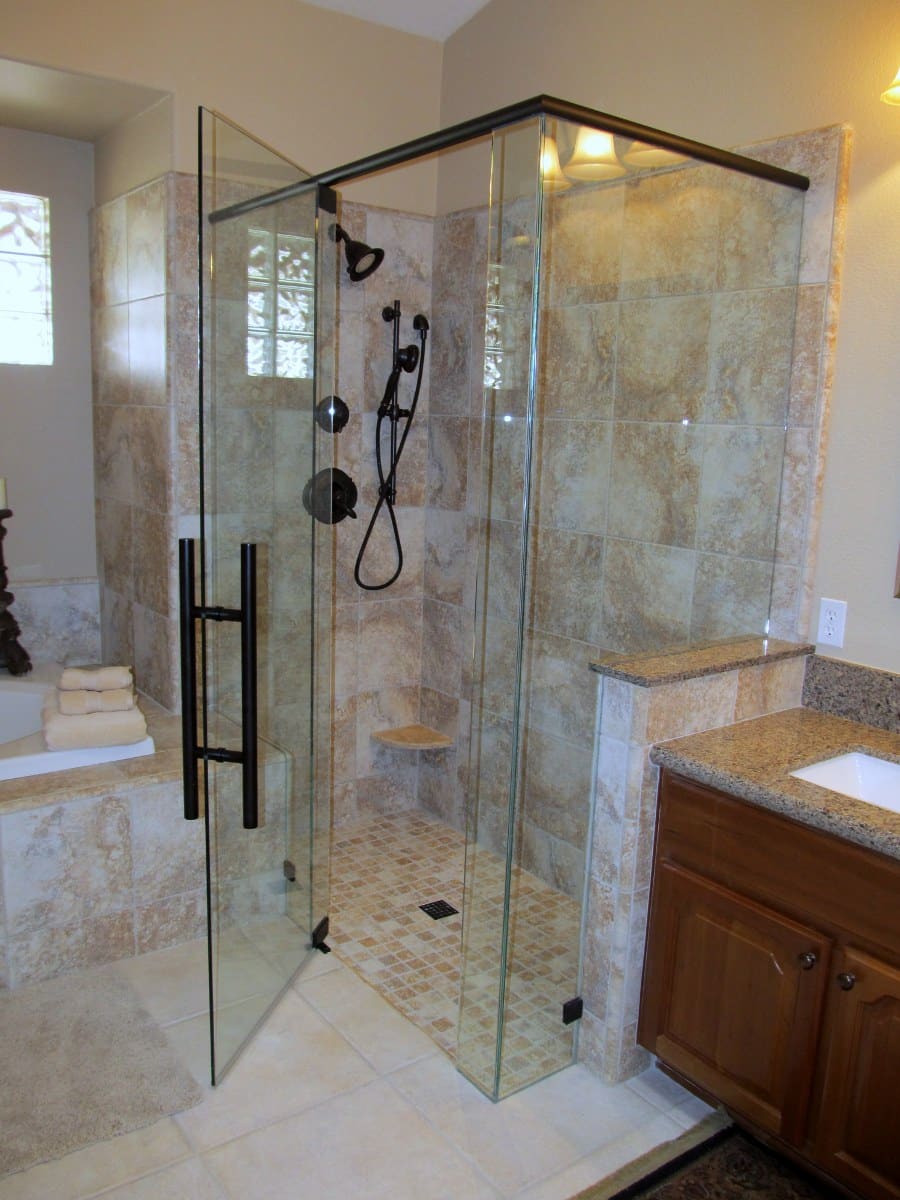 GlassBusters offers a variety of custom glass shower doors and tub enclosures to suit almost any need in the Phoenix metro area. There are many glass and frame color options to choose from. Here's a list of the types of glass shower doors & custom tub enclosures we can make for you!
– Heavy Glass
– Sliding Glass
– Pivot
– Frameless
– Semi-Framed
– and Framed door options
At GlassBusters we can service all of your residential and commercial shower door & tub enclosure needs. Please take a look at our picture galleries below.
Contact us today for a free estimate at (480) 994-5855
Please browse some examples of our work below:

.
Gallery 1
(Click an Image to Enlarge)

Gallery 2
(Click an Image to Enlarge)




Free Estimate! Call Now (480) 994-5855!
Glass Shower Doors Versus Shower Curtains
Whether you're remodeling your bathroom, or adding a new one into your home, there will come a time when you need to decide on a glass shower door or a shower curtain in your Phoenix home. Both have their advantages and disadvantages. The key is deciding which one is right for you and your bathroom.
Obviously, shower curtains are cheaper and easy to replace than their glass counterparts. If you wish to change the look of your bathroom all you have to do is swap out your shower curtain. They also add privacy. Glass shower door Phoenix home owners will tell you they leave little to the imagination.
Of course, shower curtains have several prominent drawbacks. Chief among them are they get in your way while you're taking a shower and they're not always the best at keeping your bathroom floor dry. Also, shower curtains have a tendency to get dirty and moldy and they do so rather quickly. Some are made out of polyvinyl chloride which can cause headaches and other health problems. And finally there are those pesky shower rings. They don't make hanging a shower curtain easy.
When it comes to glass shower enclosures, homeowners have been singing the praises of glass doors for a long time. They keep water in the shower. You won't have a wet bathroom floor with a properly installed glass shower door. They are also easy to clean. All you have to do is wipe them down with a glass cleaner and maybe use a little elbow grease to eliminate scum buildup in the tracks. Even so, that still beats dealing with a moldy shower curtain.
Beyond the practical advantages, Phoenix retailers will tell you that glass shower doors are also modern, elegant, and add more light to your bathroom. Yes, they can't be swapped out like a shower curtain but a custom shower enclosure doesn't need to be swapped out periodically. They come in many styles, with many options, and if properly maintained they will retain their fashionable appearance.
Glass doors do have one major drawback. They are more expensive than shower curtains. However, if you consider their functionality and their aesthetic qualities they are more than worth the price. In fact, they pay for themselves every day and increase the value of your home. While the final choice is ultimately up to you we can't help but recommend glass shower doors!
Also check out:
Shower Doors in Chandler AZ