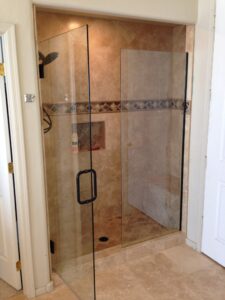 GlassBusters offers a variety of custom glass shower doors and tub enclosures to suit almost any need in the Phoenix metro area. There are many glass and frame color options to choose from. Here's a list of the types of glass shower doors & custom tub enclosures we can make for you!
– Heavy Glass
– Sliding Glass
– Pivot
– Frameless
– Semi-Framed
– and Framed door options
At GlassBusters we can service all of your residential and commercial shower door & tub enclosure needs. Please take a look at some of our custom glass work below.
Contact us today for a free estimate at (480) 994-5855

Glass Shower Doors Gallery
(WORK FROM 2020)
Note: Once you open an image below you can click on the right of the image to scroll through the gallery.


Splash Panel Gallery
(WORK FROM 2020)
Note: Once you open an image below you can click on the right of the image to scroll through the gallery.

.
Past Galleries
(Click an Image to Enlarge)

(Click an Image to Enlarge)

Free Estimate! Call Now (480) 994-5855!

Framed vs Frameless Glass Shower Doors – Which Is Better?
The choice between framed and frameless glass shower doors in Phoenix can be a challenging one for many buyers. The endless options of glass shower enclosures are what adds to the challenge. In this article, we'll aim to answer this question in the interest of helping buyers make the right choice based on what they need.
Framed Doors and When is it the Right Choice?
One of the advantages of framed glass shower doors in Phoenix is that it has a heavy-duty aluminum frame to reinforce the edges. It is one of the best, most common-sense upgrades from a regular shower curtain. Furthermore, as a bonus, they look cleaner and nicer, which makes your bathroom more aesthetically appealing.
Framed glass shower doors are an excellent choice for people who prefer durability because they are made from tempered glass. If the glass break, it does not result in glass shards which can cause injury. The aluminum frame also helps to reinforce the door, which makes it steadier.
Installing framed glass doors are also easier and will fit on just about any type of shower. So, unlike glass shower doors, there is no need for special hardware. They (framed glass shower doors) are also less likely to leak because of a track that traps water. There is also a layer of caulk and metal to prevent spilling.
As a bonus, they are a cheaper option on average compared to frameless shower doors. It is important to bear in mind that they are less expensive because of the thinner tempered glass used.
Who shouldn't Buy a Framed Glass Shower Door?
Anyone who wants a wider range of motion should stay away from framed glass shower doors. They are also harder to maintain as the metal around the edges will corrode over time. Furthermore, they aren't as fancy looking as their frameless counterparts.
Frameless Shower Doors and When to Install Them?
They are one of the most popular types of glass shower doors in Phoenix. A big reason for their popularity is that they are made from thick and sturdy tempered glass with a modern design. The more stylish design is why many homeowners lean in favor of frameless shower doors and enclosures.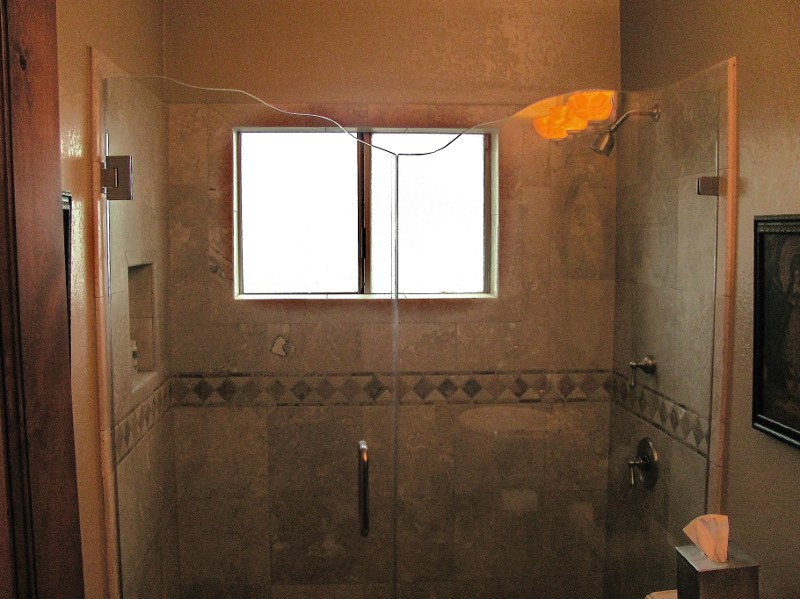 Frameless shower doors also have a wide range of motion because they are hinged in a way that allows them to pivot both ways, i.e. inside and outside. So, the door can essentially be opened in any direction. Furthermore, they are easier to maintain because cleaning the door is easier, and there are no crevices for soap or scum to collect. That's why they also tend to last longer than their framed counterparts.
So, if you are looking for a more versatile, modern shower door that gives your bathroom a sense of space, then going frameless is highly recommended.
Who Shouldn't Buy Frameless shower doors?
Budget buyers should refrain from frameless shower doors because they tend to cost more as compared to their framed counterparts. Also, people with kids will want to avoid these doors as they are a bit unstable. The installation is also a little complex so it isn't exactly something a DIY homeowner can take on as a weekend project.
Conclusion
When in the market for a shower door, make sure to keep the above-mentioned points in mind. While glass shower doors in Phoenix are a dime a dozen, it is worth considering what will work best for your home.