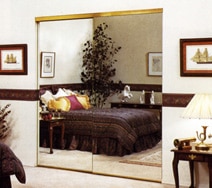 At GlassBusters there are many mirror options available to you! We install custom mirror walls with or without beveled overlays. Vanity mirrors, bar area mirrors with shelves, and sliding mirrored closet doors are just a few examples of what we can provide for you.
– Custom Mirror Installations
– Mirrored Wardrobe Doors
– Custom Vanity Mirrors
– Medicine Cabinets
– Bar Area Mirrors
– and much more!
.
Check Out some of our Custom Mirror Work below! Click Pictures to Enlarge!








Free Estimate! Call Now (480) 994-5855!