Experience a Great Shower with our Glass Shower Doors, Phoenix Area Company
The shower room is one of the areas in the home that people want to keep clean and beautiful as much as possible. It is in the shower room where you relax and clean your body.  It is therefore a great idea if you can give it a great look by doing some refurbishing.   What more exciting redecoration can you do than to install glass shower doors!
Contact us today for a free estimate at (480) 994-5855 or
submit our Request a Quote form on the homepage.
>>> Mention Code "10OFF-GLASS" for 10% OFF! <<<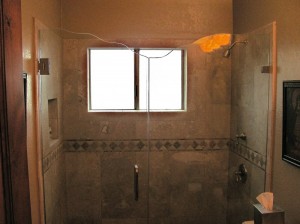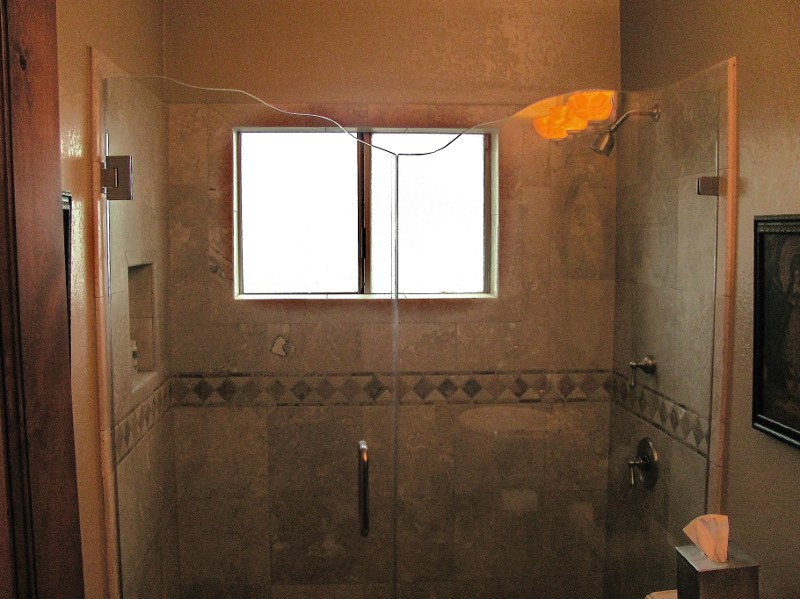 You will get overwhelmed with the numerous types and designs of glass shower doors Phoenix.  These doors can be framed, frameless, smooth, textured, etched, colored, or clear.  They can be pure glass or part of them be made from plastic, wood, vinyl, metal, stainless steel, brass, or aluminium.  Glass shower doors may also be plain or you can choose those that are printed with great designs.  Moreover, Glass shower doors Phoenix can be sliding, folding, or can also be the typical hinged.  Many people love shower glass doors with 'water drop' designs and some artistic prints.
If you already have a glass shower door but it has been ruined, there's no need to worry.  Skilled repairmen from fix Glass shower doors Phoenix offer 'fix my glass shower door' so there's no need for you to spend so much.  They also offer glass door replacement.
Gallery 1
(Click an Image to Enlarge)

Elegant Looking Glass Showers in Phoenix
Glass doors can give your bathroom a very elegant look and appealing ambiance.  You will totally find it very relaxing and enjoying taking shower in a fully refurbished bathroom with contemporary glass doors.  Our glass shower doors Phoenix Company will provide you tons of glass door ideas to find the right type that will suit your shower room best.   Most of the time, homeowners choose the glass door that matches the bathroom furniture and the walls.  If you shower area has wooden-inspired look with wood furniture and walls, then a plain clear shower glass door can best augment the area.  Lass shower phoenix AZ has contemporary designs to make your shower experience an excellent one!  You can select the frosted glass which is very popular because of its unique look.  Add the fact that it adds privacy unlike the clean glass doors.  This type of glass shower door AZ looks like it has been scratched in an artistic way.  You can even customize your glass shower door! You can accentuate your bathroom with fine lighting fixtures, add some decorations and you will notice that you have just turned your shower room into a five-star hotel bathroom!
Call (480) 994-5855 for your Free Estimate!
Or Submit our Request a Quote Form!
Tags: frameless shower doors phoenix, glass shower doors phoenix, shower doors phoenix, shower doors phoenix az, shower enclosures phoenix