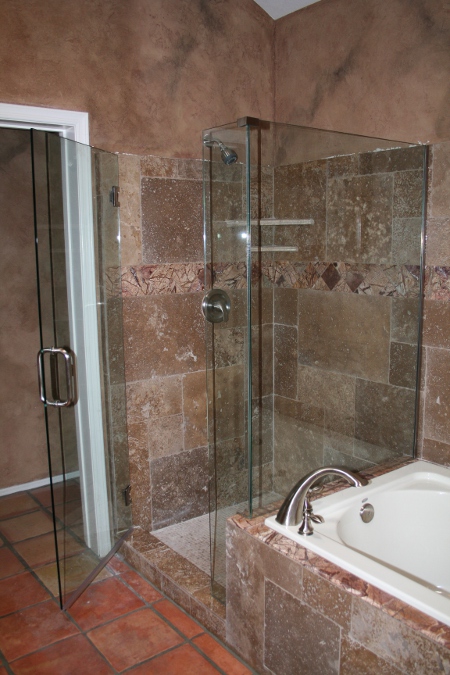 For acquiring the best possible glass shower doors, Apache Junction AZ residents need not see beyond GlassBusters as it has been providing guaranteed satisfaction to its customers, in terms of affordability and quality of workmanship for more than 25 years now. Located in Mesa, Arizona, the company creates and affixes various glass items around the house such as glass shower doors, windows, table tops, etc., and has an enviable track record of happy and loyal customers which make it the go-to destination for residents of the Apache Junction area that it services.
Once a privilege of only the noveau riche, the glass shower door has now become a feasible and necessary tool for the middle class man's bathroom as well, thanks to companies like GlassBusters which provide the best, at highly discounted rates. To receive a price quote, interested customers can approach our website and fill out a simple form.
Call (480) 994-5855 for Special New Customer Discount!
Types of Glass Shower Doors
Shower curtains neither keep the water off of the rest of the floor of the washroom and nor do they last as long as shower doors do. The glass shower doors by GlassBusters are sturdy and long lasting as well as easy to clean. Users need not worry about embarrassing glass stains and spots or abrasive cleaning as the doors can conveniently be cleaned with vinegar. These are the following kinds of glass shower doors that GlassBusters offers:
Heavy Glass
Sliding Glass
Bi-fold
Pivot
Frameless
Semi-Framed
Framed door options
Browse Our Recent Work!

Call (480) 994-5855 for Special New Customer Discount!
Setting up a good and comfortable home seems to be a huge task considering the vast array of options that one has to pick from in the market today. A lot of time is wasted on research about the right fixtures and accessories that will suit the home as well as the budget. As far as bathrooms are concerned, many people tend to spend big bucks on the various aquatic themed designs, tiles and fittings and then go ahead and fix up a shower curtain. The shower curtain, more often than not, tends to spoil the look of the bathroom, especially when wet, as plastic can never beat glass in terms of classiness, style and durability. Wouldn't you rather be served in a sophisticated glass cup than a departmental store bought plastic one? Well, that is the same case with shower doors and shower curtains; the latter is always the preferred choice for its affectivity in keeping the water out as well as the strikingly sleek appearance that it lends to the overall look of the bathroom. Apache Junction shower door customers can choose from a wide variety of glass shower doors such as sliding enclosures, swinging doors or door and panel enclosures. The variety of glass available is also mind boggling; frosted, transparent, translucent, patterned, color coded, you name it, and every kind of glass pattern or design imaginable is easily available to add beauty and utility to your bathroom.