GlassBusters is the best bet for glass shower doors in Gilbert AZ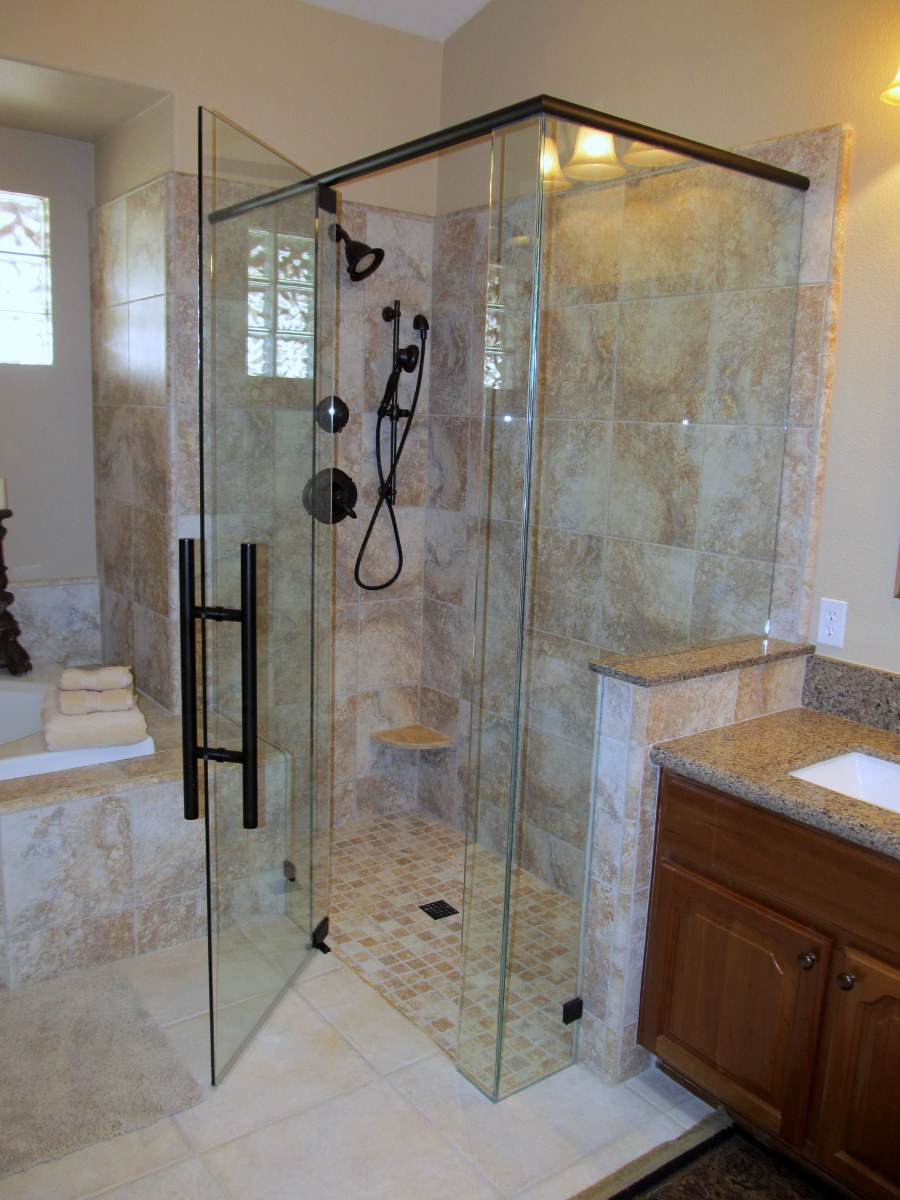 There are varied kinds of glass shower doors available in Gilbert Arizona, depending on your budget and needs. There are clear, patterned, framed, frameless, traditional, semi framed, Euro styled glass doors, and more. One can choose to have a sliding glass shower door if there is a simple shower area or, in the case of a huge bathroom, a full glass wall with a traditional door for enclosing areas with a bathtub.
To take the measurements for making the glass and fixing them proportionately, one needs to have expert services and the best ones in the business are unarguably GlassBusters. Besides the Mesa, Arizona area, we also service Phoenix, Scottsdale and many other suburbs across the valley, at competitive prices. Located in Mesa, our glass shop specializes in glass repair and replacement, custom mirrors, glass shower doors, plastic / safety glass, tabletops, storefronts, screens and window replacement, among many other such expert services.
Call (480) 994-5855 for Special New Customer Pricing!
Why glass shower doors are gaining popularity
Glass shower doors successfully do what they have been made to do…Keep the excess water in the shower area and avoid unwanted spillage on the rest of the bathroom floor. This is something that shower curtains fail at and hence more and more people are opting to get shower doors affixed in their bathrooms over shower curtains. Also, the look of the bathroom, after the installation of a glass shower door is one of finesse, polish and style, while shower curtains tend to appear tackier and cheaper in comparison.
 Check Out Our Gallery of some of our recent work!

Call (480) 994-5855 for Special New Customer Pricing!
Have you ever visited a home and was in awe by the bathroom's beauty and structure? A bathroom needs to have certain basic necessities such as a toilet, basin, bathtub or shower area, along with the other amenities such as soaps, hand wash, scrubs, hand towels, etc. A vital aspect that should be taken into account is the division of the bathroom between the shower area and the rest of the room. This ought to be done so as to prevent water from the bath to spill all over the floor of the bathroom, so that the area remains dry and clean at all times. For the provision of his division, the 2 accessories that people invest in is either a shower curtain or a glass shower door Gilbert AZ made of glass. For neatly affixed, professionally made and the highest quality glass shower doors, Gilbert AZ residents do not need to look beyond the services provided by GlassBusters. The company has been in the business of providing skilled workmanship in the manufacturing and fixing of glass fixtures around the house for 25 years, and can be relied on for getting the best at the most affordable costs.